"But yeah I need the weed,
The weed will help me with the greed"
So green is supposed to be the color of 2013.
Emerald is my birth stone.
This year is also the year of the snake according to the Chinese zodiac, and I'm a
1989 bebe!
As an atheist, I don't believe in destiny/fate, but in a world of coincidence.  That aside,
I'm taking all these coincidences as motivation that this will be my year to shine.
I've been trying to become a more positive person by shutting out all the negativity that inhabits my mind.
I have promised myself that this year is about growing in my career and the only way to do that is to tackle my anxieties. 
Social anxiety.
And  social media was really fucking with me, FB to be exact.
There were certain pages/people that I didn't have the ovaries to delete due to my Warholian fear of conflict, and at the end of the day, I loved their dramoo.
It became the equivalent of checking the refridgerator over and over again but inside is the same tupperware of spoiled food  and vacant space.
It has been a few days now since I deactivated it and I truly feel better.
Maybe it's the fact that I got promoted to being the salon's owner assistant this past week and I won't have to hustle at 3 jobs anymore.
Or maybe I really am a manic depressive and I'm reaching a peak after being in the valley so long.
Either way, I feel happy now.
"I don't wanna wait for my life to be over,
So I do it now."

I am obsessed with this song.
Their first album has been on replay for a couple of weeks now.  I am a sucker for all girl groups that play dress up.  Their concept is that the vocalist Marianne is a manager at the imaginary Hotel Kinoco and the bandmates are her workers.  When I first heard her voice I thought she sounded like a nasally Shiina Ringo.
Download Album Here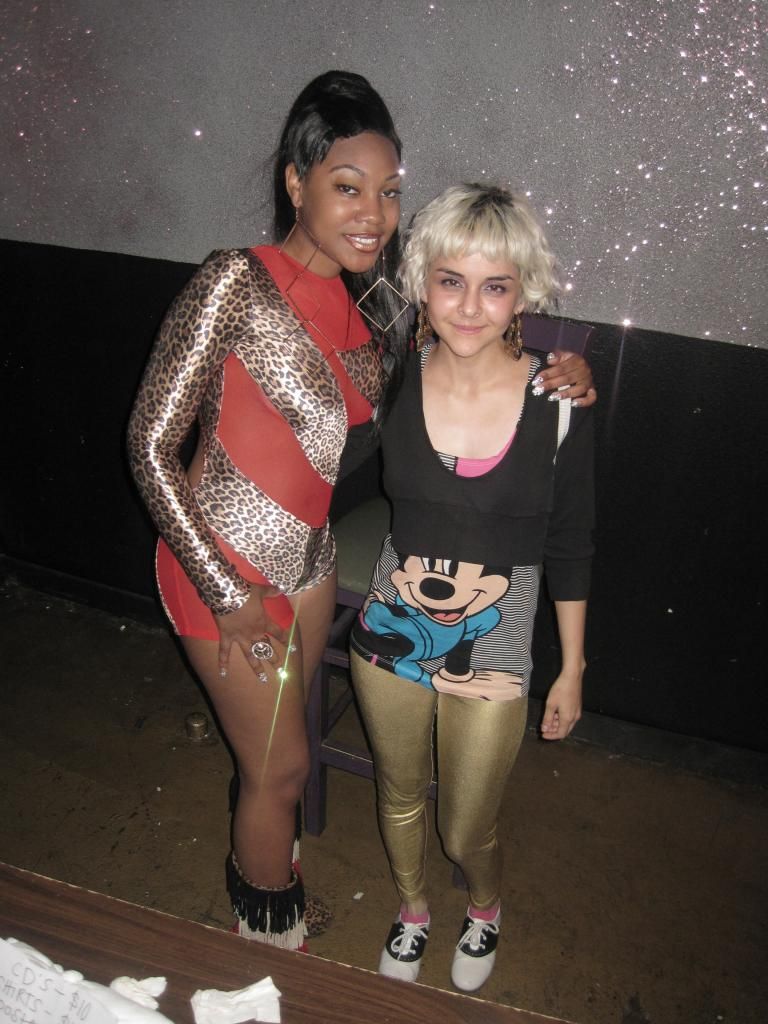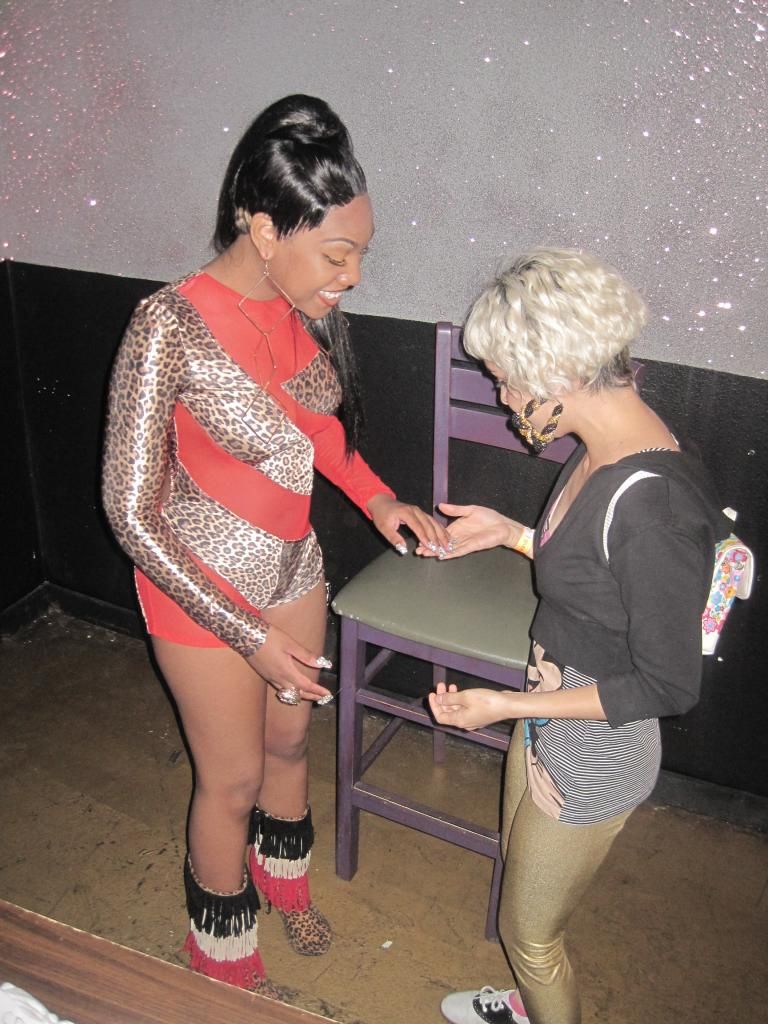 Juan took me to see Lady at the Beauty Ballroom on Oct. 20.  She  played a short set and held a twerk contest on stage.  Her nails always look fly in her videos, and that night they looked like disco balls.  She said "Damn, and I thought I was short!" when I stood next to her in her 6 inch heels to take pics.

On Thursday Juan found out that SSION's Funfunfunfest night show would allow 50 people to buy tickets without festival wristbands and got us in!  I had no idea that we were going until he called me at work to tell me to rush to Club De Ville after my shift or we would miss our chance.  Cody and I were both wearing orange, and he told me "We're kind of matching tonight with our busy prints!" He was wearing florals and I was wearing a late 60's paisley drop waisted dress.  He is so handsome, and when he was on stage I couldn't take my eyes of him.  Of course I got stuck behind a row of tall people at the beginning of his set, but this guy with long curly red hair told me to get in front of him.  This put me right in the middle of the low stage, right where Cody was standing on the ledge the majority of the show.  His rhinestone encrusted belt buckle was at eye level and his crotch stood centimeters away from my face.  
I DIED.
Afterwards he signed his newest album for me and said he was happy to see me in the front row. 


We also got to talk to House of Ladosha, and Dosha told me about growing up in Nashville.  His parents were apart of the art scene there as curators and his second mom (aunt) was a hairdresser.  She did Reba McEntire's hair and Dosha would tag along to the sets.  He said if he wasn't  doing his project he would do hair instead.  
Watched this the other night and this scene made the whole film.
PedoBear seal of approval
Enrique Rocha plays Satan, decades before I'd seen him in his telenovela villain reign.
Bernie was an explosion of all the experiences I had/wished happen while working for funeral homes.  Prior to watching the movie I did not know the story of Bernie Tiede and Mrs. Nugent, but it reminded me how badly I want to subscribe to
American Funeral Director because the first pages are crimes and legal affairs related to the funeral industry;

GOSSIP
Texas Monthly
wrote about it in January 1998.
The majority say they're in shock that someone so nice could be capable of shooting a cranky old hag.  But I say, the guy was in the funeral game, OF COURSE he was capable.  Bernie's personality is a combo of 2 directors I used to work for, and it would not surprise me in the least bit if I found out either killed somebody/ies.
Or harbor stashes of  personal "illicit" videotapes.
Watching this made me very happy I don't hear "Have a blessed day!" anymore.
tag : i love luv video, nunsploitation, satanico pandemonium, bernie